The CRC National Blog
How to Become a Realtime Reporter In Eight Easy Steps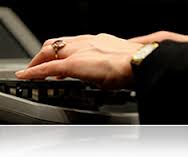 This instruction guide will provide you step-by-step instructions so that you can soon become a Certified Realtime Reporter!
Step 1: Make the decision that you can be a realtime reporter
Usually it is our brain that gets in the way of our success, so Step 1 in this journey is to decide you can do it! Realtime reporting has significant benefits for a court reporter, such as improved job security and increased pay, so it is well worth considering. The process will be much easier for you when you decide this is what you want. You probably have doubts in your mind about if you can really do it or what happens if you make a mistake. However, every reporter has doubts and questions, and many people, just like you, have successfully become a realtime court reporter.
Step 2: Practice, practice, practice
If you are able to pass your Registered Reporter Certification, you are capable of writing realtime to yourself. In order to get the necessary realtime certification, you only need to build on the skills you already have. You need to be a good writer and have confidence in your writing – and the way to become the kind of writer you need to be to do realtime is by practicing. Find Realtime Coach or one of the other online programs that help you with your speed and accuracy, and sit down to your machine several times a week. Obtain a list of finger drills and perform them while waiting for your depositions to begin.
Step 3: Consider upgrading your laptop computer
Next you will need to consider updating your laptop computer if you have not done so recently. Although many CAT vendors provide computers as part of a package they sell, you do not want to blindly purchase without first becoming a knowledgeable consumer. Find someone to help you who understands computers, if you do not feel comfortable with this purchase. Check with your CAT software to confirm what hardware requirements are necessary. It is typically recommended that your laptop has two USB ports and comes with Bluetooth capability. (Industry experts recommend having a backup method of connecting your laptop to your writer in case your standard method isn't available.) We also suggest purchasing as much computing capability as you can afford. Most realtime reporters use a computer with the fastest processing speed available and a minimum of 4 GB of RAM.
Step 4: Consider upgrading (or changing) your CAT software
All major CAT systems today have realtime features. You will want to do the necessary research and choose the CAT software which will be most beneficial to you for doing realtime reporting. It would be a good use of time to get some demonstrations, ask colleagues what they use, and create some comparisons on your own of the different features and capabilities of the software platforms that are available
Take the time to become more knowledgeable about your CAT software. If you already have the current version of your software, you should still take the time to learn more about its capabilities. Take advantage of ongoing training and seminars offered by your software manufacturer. Contact your CAT software salesperson/representative to learn more about what kinds of ongoing training is available to you. Software manufacturers are continually adding capabilities that cater to realtime reporters so that they can write more cleanly. As a result, it becomes very beneficial for you to become and maintain your proficiency with the capabilities of your CAT software.
Step 5: Connect your steno machine to your laptop
This connection can be done by cable or by Bluetooth. (Tip: It is recommended to connect your steno machine to your laptop via cable when you are first starting out writing realtime.) Have the ability to use Bluetooth as a backup if necessary. We recommend purchasing the realtime cable from your steno writer vendor to ensure you are purchasing the correct cable for your steno writer.
Step 6: Practice setting up and taking down your realtime equipment
Once you have the necessary equipment, you need to practice assembling it and breaking it down until you are very comfortable. One way to test yourself is to pretend you are at a deposition and to time yourself. The important thing is that you have worked with it enough so that you are able to quickly and smoothly set it up without using the directions. We recommend that you do a mock setup AT LEAST three times before a deposition – and that means a complete teardown of the equipment, putting everything away, and setting it up again. It should take you no longer than 15 minutes to do the setup.
Step 7: Take your laptop to all depositions and work on your writing
Take your laptop to all of your depositions and work on your writing to attain a higher translation rate. At this point, you are not writing realtime for attorneys; you are simply doing it for yourself. You are receiving the benefit of the feedback of the immediate translation so that you can improve your writing skills. You will find this immediate feedback very useful. Your editing time will be cut in half because you are writing better (or at least trying to) as well as editing at the job. Less work at home means more time to do other things, including taking on more work and making more money.
Step 8: Complete your certification
When you are comfortable with your equipment setup, your CAT software realtime functionality and your realtime translation rate has improved sufficiently, it is time for you to take the leap! You are ready to take your Certified Realtime Reporter (CRR) exam. You can register for the exam by visiting the NCRA Certification Test Center. The CRR exam consists of three phases:
Setting up and operating your equipment
Accurately writing realtime for five minutes at 96% accuracy from professionally recorded two-voice question and answer material at the speed of 200 words per minute
Converting your file to an ASCII text file.
Looking To Become a Realtime Court Reporter?
Download Our Guide "How to Become a Realtime Reporter In Eight Easy Steps"