The CRC National Blog
How To Value Your Court Reporting Agency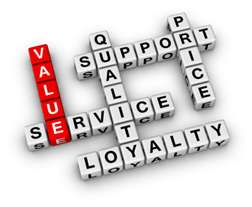 Court reporting agencies play a vital role in transcribing the goings on of court proceedings. Many agencies work with or inside law firms to provide accurate and effective reporting services. There are many different certification processes as well as legal obstacles to be aware of, so selling a court reporting agency can be extremely difficult and potentially risky. As a business owner, whether the firm is large or small, it is important to understand exactly how to value and market your business. Maybe it has taken decades to build a trusted business or maybe you have worked closely with a certain law firm to help build your court reporting agency. Either way, it is important to check out the Small Business Administration's checklist for selling your business. This checklist will give you the bare minimum essentials in helping to market and sell your business successfully. However, these are just guidelines and provide general information to business owners looking to sell.
Valuing Your Agency
The complexities of business valuation should not be taken lightly. Understanding what goes into your business' worth is important. First of all, you should consider the net income or revenue of your business. Many times, small businesses will sell at a certain multiplier of their net yearly income. The smaller the business, the smaller the multiplier. Typically, if a business can be run by one person, with access to all the customers and clientele, the multiplier stays at 1x the net income of the business minus any debts or personal expenses. Certainly you have worked hard to build your business, but it is important to realize that your business is only worth what can be shown on paper. Pricing multipliers increase if the business has an established customer base that will not migrate elsewhere after the sale, as well as other factors such as assets and equipment as well as business office and floor space. More information from a business broker relative to pricing multipliers and how they relate to assets, liabilities, and net income can be found here.
Some Steps To Follow
A court reporting agency typically has relatively low overhead costs due to the fact that the labor that goes into recording and transcribing the court proceedings is the core value of the business and generates most of the income in most cases. However, if you feel as though you need a very general yet very easy to understand formula for valuing your business, check out this site, which offers a "What Is My Small Business Worth? 3 Easy Steps" discussion. Many times, the valuation of a small business is much more complicated than people realize.
Do Your Research
Court reporting agencies will always be in demand as there will always be court proceedings to record and transcribe. Understand that since there are many different reporting agencies out there, you should be able to get a pretty good idea of your court reporting agency's value from researching recent past sales and brokerages of similarly sized businesses. This is by no means the best way to value your business, but it will give you vital information relative to a starting point. Also, understand that just as the potential buyers will be researching your business and you in order to make the best and lowest possible offer, you should research each potential buyer to gauge exactly how they will behave during sale. This information will give you the most amount of negotiating room when it comes to talking numbers and eventually selling your business. Business valuation is not simple, but now you've got a few excellent tools at your disposal to help.
For More Tips On Selling Your Agency – Download Our Exit Planning Guide