The CRC National Blog
Top 5 Reasons to Own Your Own Court Reporting Agency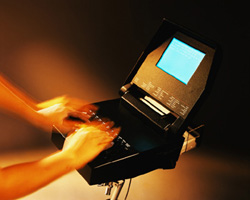 Starting your own reporting firm, even if it is just you, is the dream of many court reporters. Just thinking about it is exciting and overwhelming. It can be a great opportunity, but since so many new businesses fail, it's a good idea to think it through carefully and have a plan in place before you jump out on your own. CRC National has helped over 100 independent court reporters start their own firms. Using our 15 years of experience of helping and supporting independent court reporters start their own firms, we have developed this guide to help you as you work up your plan to start your own independent court-reporting firm.
1. Control Your Own Destiny
Entrepreneurs are by nature people who like to take control and make decisions. Owning your own business frees you from having to work for someone else.
2. Find Your Own Work/Life Balance
One of the benefits of owning your own business is the flexibility that comes with it, setting your own hours, wearing your pajamas or even sitting next to your pet while you work. Entrepreneurs say that owning their own business lets them set their priorities.
3. Choose the People You Work With
When you work for someone else, you rarely get to choose whom you work with. When you own your own business, you get to make the decisions about who to hire (and fire). You can surround yourself with positive people who give you the confidence and optimism you need to keep moving forward.
4. Take the Risk, and Reap the Rewards
Owning your own business is a risky proposition. Owning your own business is a risky proposition, but with risk comes reward. Like every other great game, the more you play, the better you get.
5. Connect With Your Clients
You decide which clients to work with and which ones are jerks. When you market your own company you are growing your own firm and not someone else's firm.
Want More Ideas About How To Start Your Own Firm?