The CRC National Blog
Top 9 Benefits of Real Time Court Reporting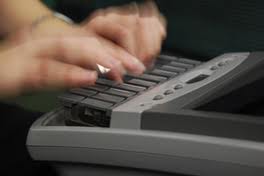 As the world becomes more technology-driven, realtime court reporting provides court reporters with better tools to deliver accurate captioning and transcription at a much faster rate, and recent advances in streaming technology have completely redefined real-time court reporting. Real-time court reporting can now be streamed and accessed over the Internet, eliminating the need for all participants to travel to one location. The benefits of real-time court reporting are many, and we detail the most significant ones here.
Real-Time Court Reporting Transcripts Are Instantly Available
There's no waiting for rough transcripts with real-time court reporting. Information is captured, stored, and available immediately. Final transcripts are also usually available faster.
Information is Searched Easily and Found Quickly
Real-time court reporting transcripts can be quickly searched for keywords used in previous proceedings or discussions. An entire database of transcripts can be quickly searched and an on-screen report assembled to summarize important points of the case. The summary can be shown to all participants.
Instant Viewing and Sharing of Case Information
With real-time court reporting, files from demonstrative evidence and presentations can be linked to the transcript; then with the click of a mouse, readers can review evidence that relates to those specific items. Information from transcripts can also be copied and pasted into an email or fax, and then sent to other professionals involved in a case.
Live Testimony Is Instantly Impeached Using Real-Time Court Reporting
With live transcripts literally at their fingertips, attorneys can quickly impeach witness testimony. During depositions given using real-time court reporting, a lawyer with remote access can request clarification or challenge a key issue, eliminating the need for secondary depositions.
Transcripts Are Synchronized With Video
During proceedings, the transcript can be seamlessly integrated with video. Real-time streams aid in the assessment of things like credibility and demeanor during playback or from remote locations.
Synchronized Time Codes
Later, the synchronization of real-time transcription provides for easy searching and location of information. By searching the record for keywords, it's easy to find a desired topic or navigate to an exact time in the video or the transcript, using synchronized time codes.
Notes and Annotations Made Within Transcripts
Quick note and annotation capabilities provide the ability to access indexes of key information unique to each case. Court reporters create indexes of the unique terms and names for each case in advance. Each time a deponent mentions a keyword, a quick-mark or note can be made within the transcript. Accurate quick-marks and annotations are valuable tools for any legal team.
Provides for More Effective Participation
The use of real-time court reporting allows more effective participation of all participants in proceedings. If a room has poor sound quality, or if a witness has an accent or speaks too softly to be heard, on-screen transcription of real-time court reporting helps everyone understand what's being said. The hearing-impaired have a much easier time participating in and following the proceedings.
Saves Time and Money
Since streams are accessible from anywhere there's an Internet connection, real-time court reporting saves on travel costs. Legal professionals avoid expensive travel and save time, because meetings can be streamed to attendees in remote locations.
Questions About Real Time Reporting?