The CRC National Blog
Visioneering for Your Court Reporting Agency
Paula's Reflections
One of the important aspects of building your own court reporting agency is to make sure you are doing what you need to do to be successful. As a part of this blog, I will share some experiences and thoughts from my own personal journey these past 15 years growing Court Reporters Clearinghouse as well as great ideas I come across in books, seminars and presentations. You might want to incorporate some of these ideas into your own personal and professional life if you think they will help you become a more successful court reporter and a happier, healthier individual. We welcome your thoughts and comments about these ideas and would love to hear back what has worked for you as well.
Visioneering – Take The Stairs
Deposition Services, court reporting agency, court reporting agencies, litigation services, court reporter, litigation support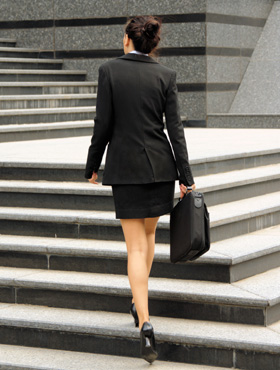 Today's topic comes from a book I read recently by Rory Varden entitled Take the Stairs. Visioneering is a term that Varden uses to combine both "vision" and "engineering." He uses it to mean "creating a new idea" or vision of what you want to be and how you live your life.
For Varden, a vision is important because it inspires you to take action. What you call it isn't important – it can be a goal, a purpose, or something else. What matters is that it is clear to you, and it is inspiring.
Make It VAST
In order to provide yourself with clarity about your vision, Varden encourages you to take three steps. First, he encourages you to make your vision detailed and clear by making it VAST. By this, he means for you to write down your vision of what you want for yourself or your business using words that appeal to the senses: Visual, Auditory, Smell, and Touch.
Vision Boards
Second, in order to help provide visual clarity, he encourages you to create a Vision Board, which is a collage of images taken from anywhere – the Internet, magazines, photographs – that visually display what you hope to manifest in your life. You then place the Vision Board in a location where you are able to see it regularly. The technique is powerful because every time you see it you are quickly reminded of the goals you have in front of you, enabling you to maintain focus on your priorities.
Develop Focus
The final step is a way to keep yourself focused on your vision each day. His recommendation is to make the first and last thoughts of the day ones that inspire and motivate you. In the morning when you wake up, hit the snooze button one time and stay awake in bed thinking about the parts of your life that you are thankful for and the parts of your vision you are striving for. When you go to bed at night, allow your mind to wander to a visualization of what you want most in your life.
By putting "Visioneering" into action, you start to take control of your thoughts. When you have better control over your thoughts, you give yourself a better mental attitude, which translates into better actions that you take in your life. The better and stronger your actions in life, the better your results, both in business and in your personal life.
How Visioneering Works For Me
Recently I put this idea of Visioneering into action in my own life. As many of us often do, I wake up anxious in the morning and worry in advance about what problems "might" happen that day: "Can we get all the jobs out as fast as the attorneys need them? Will the reporter's plane leave on time so she can make it to that afternoon job in another city? What happens if the technology doesn't work for that internet realtime streaming job?"
I recently started applying this positive Visioneering idea by changing these fearful anxious thoughts that pop in my head into positive thoughts. Such as: "We have a great staff and they will stay as late as necessary to get all the jobs out. We have a great IT department that we can call if we have technology issues. Just changing these worries to positive thoughts really seems to help. I find myself relaxing and those anxious feelings subside. Waking in the morning and using the first few minutes to think positively and be thankful for all the good things in my life helps me handle stress better.
How could it work for your court reporting agency?
If you are starting your new court reporting business, or you are an independent court reporter trying to rejuvenate your current business, give Visioneering and Varden's book Take the Stairs a read. See if you can incorporate some of these ideas into your life. I hope you will find that you gain much more control over your thoughts, your attitudes, and ultimately your actions.
Sincerely,
Paula