The CRC National Blog
What Is Real Time Reporting?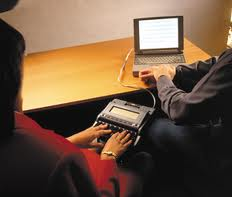 Real time court reporting combines the skills and experience of a court reporter with the speed and power of computers. A court reporter's keystrokes are instantly translated into text and displayed on multiple laptops and screens in the courtroom.
The receiving software allows acceptance of the feed directly into a new transcript file and is easily integrates with video allowing streams of courtroom proceedings over the Internet for access from remote locations.
The process of real time court reporting is easy to learn, the technology is easy to use, and the equipment is portable and easily moved from location to location.
Real Time Court Reporting Provides Instant Transcripts
There's no waiting for transcripts with real time court reporting. Information is captured, stored, and available immediately. This streamlines a court reporter's workflow by allowing immediate printing of rough drafts. Drafts can be saved to CDs and made available for attorneys and judges to review during court recesses. Instant availability of transcripts provides court reporters the ability to quickly deliver final transcripts.
Integration of Real Time Court Reporting Technology
Courtroom participants connect to the court reporter's laptop with a serial cable or over the Internet to receive the transcript. A real-time session requires a laptop with a 9-pin serial port or a 9-pin to USB converter with software such as LiveNote®, Bridge®, CaseView®, or Summation® installed. Litigation-support programs offer instant access to rough drafts of the proceedings.
Using Real Time Court Reporting in Proceedings and Communications
Judges and attorneys and can call up depositions for instant comparison to current testimony. The technology enables attorneys to bring volumes of legal research into the courtroom on a single compact disk.
Using the cut and paste feature, notes taken directly from the court reporter's transcript can be combined and displayed on courtroom screens, saved to printable reports, emailed, or faxed.
Case Information is Entered Once
As a case begins, the court reporter creates an index of names, terms, keywords, and phrases unique to each case. Once specific information for each case has been entered, real time court reporting provides efficient search capabilities.
Participants can automatically mark and search for references to the indexed information throughout the proceedings. Forward and backward file searching is easy and simultaneous searches across one or more documents to locate case specific keywords and phrases is easily accomplished. By enabling attorneys to organize and mark testimony as it is given, real time court reporting allows them to keep more accurate notes for further research and collaboration with expert witnesses and other professionals.
The indexing feature allows key issues in a case to be easily identified within the record, and can be set up to highlight or tag specific words and phrases within the transcript as testimony is given, or during any stage of the proceedings.
Synchronize Video and Text Records
To maintain accuracy, the court reporter's computer is synchronized with the internal clock of the camera or VCR in the courtroom. Time codes ensure the text and video record is in sync and allow specific portions of the record to be searched from the text portion of the record, allowing easy location of specific information whenever it's needed.
Streamlines a Court Reporter's Workflow
While real time court reporting provides many advantages to judges, attorneys, and witnesses, one of the most important characteristics of the technology is its ability to streamline a court reporter's workflow. Instant availability of transcripts provides court reporters the ability to deliver final transcripts within hours (or minutes) after proceedings adjourn for the day.
Resources for Houston Court Reporters
Click here to learn more about how to become a realtime reporter